Two of Laurie's virtual reality collaborations with artist Hsin-Chien Huang are on display at Pratt Manhattan Gallery until March 4, 2023.
To the Moon (2018), originally commissioned by the Louisiana Museum of Modern Art in Denmark, made its US premiere at the Museum of Natural History timed to the fiftieth anniversary of the Apollo 11 moon landing. The artist duo reconceptualizes the moon in six segments, using images and tropes from Greek mythology, literature, science, and sci-fi space movies. The viewer is able to explore the surface of the new moon, glide through space debris, and fly through DNA skeletons of dinosaurs.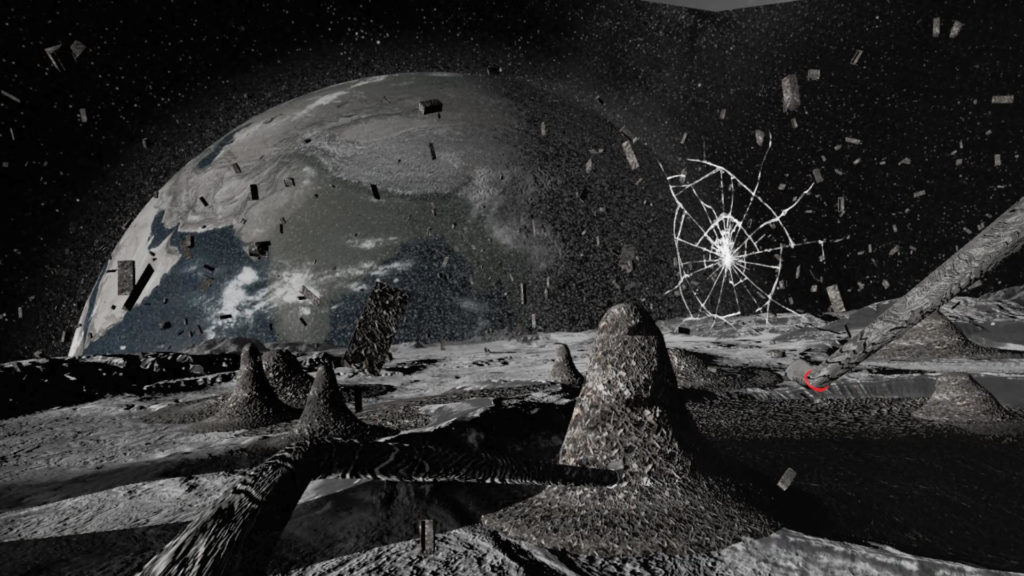 Another large-scale VR installation, Chalkroom, 2017, features eight unique rooms with chalkboards emerging as a vast labyrinth. In this alternate reality, viewers are guided by co-creator Laurie Anderson's voice through a sensorial landscape. Abstract symbols are converted into concrete, interactive, physical presences, allowing the audience to explore the connections between written words and memories. Chalkroom was awarded Best VR Experience at the 74th Venice Film Festival and was the first of several VR works that Huang and Anderson created together.
Hsin-Chien Huang: The Data We Called Home
September 23, 2022 – March 4, 2023
Pratt Manhattan Gallery
144 West 14th Street
New York, NY 10011
Monday – Saturday, 11am-6pm
212.647.7778